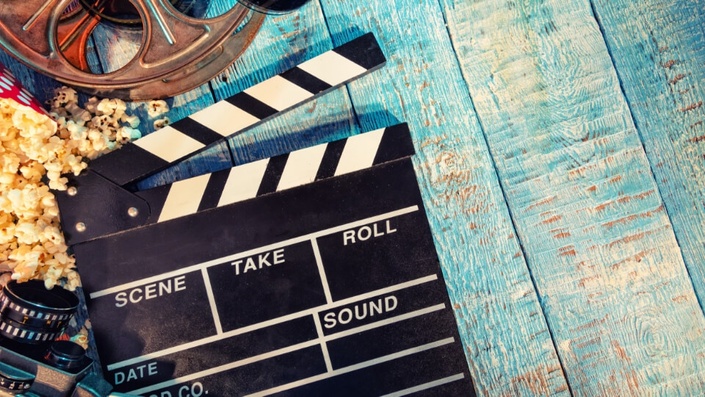 Shorts & Coffee
Online Language Course and Monthly Movie Club for Intermediate Learners
Are you studying English?

Are you a movie lover, too?
You might have tried to learn the language with movies.

It was a bit frustrating, wasn't it? It's not easy to understand entire films in English. The actors speak quickly and use slang. You probably didn't have a teacher next to you who helped you out when you didn't catch something either.
So, you might have given up, because who has time to watch a two-hour movie nowadays just to practice the language?
It's time for a change.
Start watching short films with a teacher who can guide you through the movie month by month!
LEARN ENGLISH THROUGH CINEMA
This intensive language course is specifically for intermediate learners who would like to reach an advanced level and have fun at the same time!
When you enroll, you'll get immediate access to the school's platform, where you can take a:
1.) Spoken English Course
We're going to learn about different aspects of the English language by watching and analyzing a short film.
Visual dictionary (learn vocabulary visually)

Grammar bootcamp (the way grammar is used in spoken English)

Slang lab (colloquial expressions and swear words)

Differences between American and British English
Take a peek inside!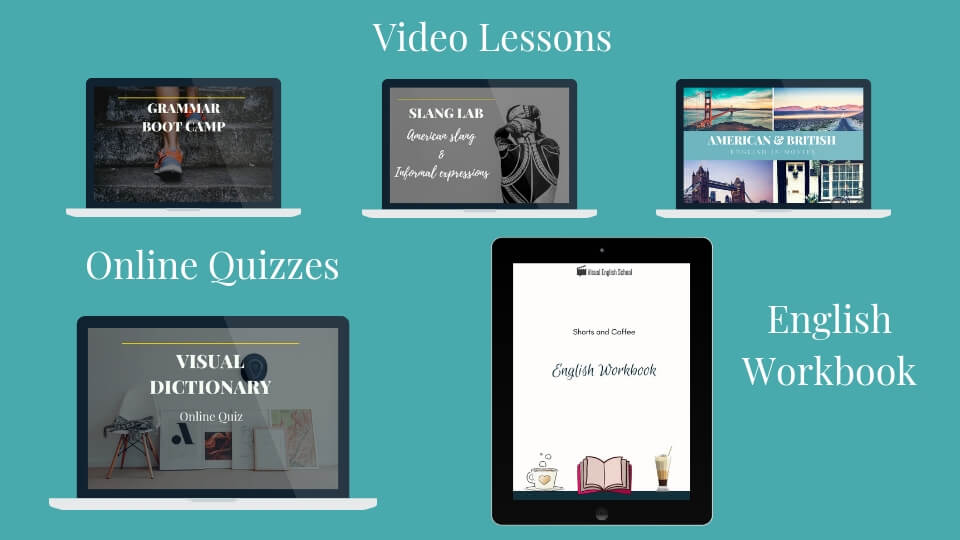 2.) Movie Course
Let's learn how to talk about all the great films you watch with your movie-loving friends. These modules are particularly suitable for students who have no knowledge of movie vocabulary, including:
How to talk about films using a great variety of adjectives

How advanced cinematic terms can help you understand movie reviews

How to use movie scripts to improve your conversational English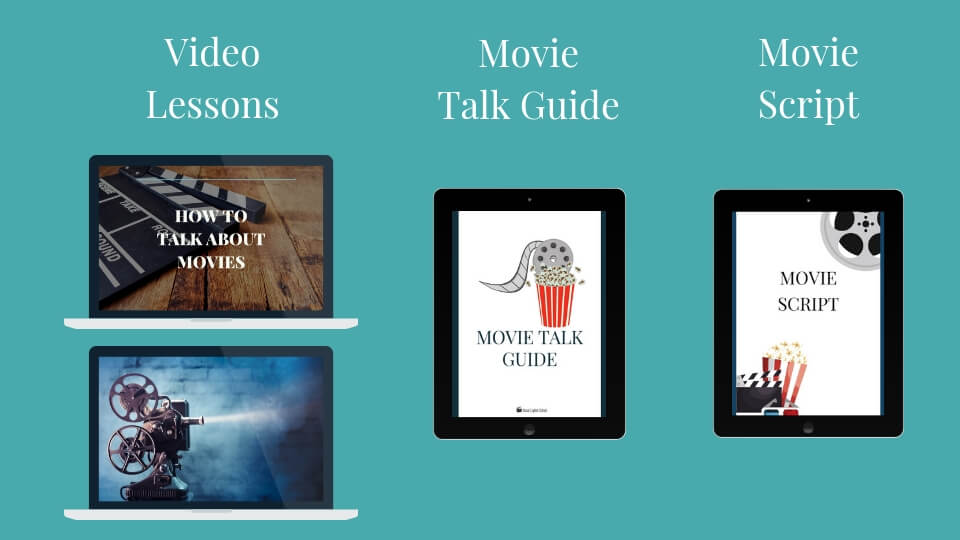 3.) A Three-Month Short Movie Club + An Online Café (Chat Room)
I'll recommend a short film to watch on Vimeo every month, and we'll chat about it in the online café. This is an excellent opportunity for you to put everything you've learned into practice.
Monthly Film Recommendations: The short films are freely available online on Vimeo. You'll get the link each month and your homework will be to watch them on your own.
Monthly Worksheets: You'll have to do film-based exercises and practice all the new grammar and vocabulary topics.
If you want, you can submit your assignments via Google Docs, and I'll give you feedback on them.
Discussions and friendly chats via a messaging platform

Exercises aimed at improving your pronunciation
Why You Should Join The Course:
Why You Should Join The Course:
To improve your language fluency
To learn real-life English. We don't learn colloquial English at school. It's no surprise that we are still having difficulty speaking English in a natural way and understanding native speakers.
No matter what your current level is, you need to maintain it and practice English regularly; otherwise, you forget what you learned! Learning English in a movie club is a fun and more engaging way to maintain your level than using traditional textbooks.
You've decided to carve out some time for your hobbies and interests! Yay! It's the perfect time to do it! Being part of an online movie club in English is a fantastic experience.
Spoken English and Movie Courses
They're immediately available as you enroll for the program.
They include 10 modules with video lessons, online quizzes, and workbooks.
Three-Month Short Movie Club
The content will be released monthly.
Your Instructor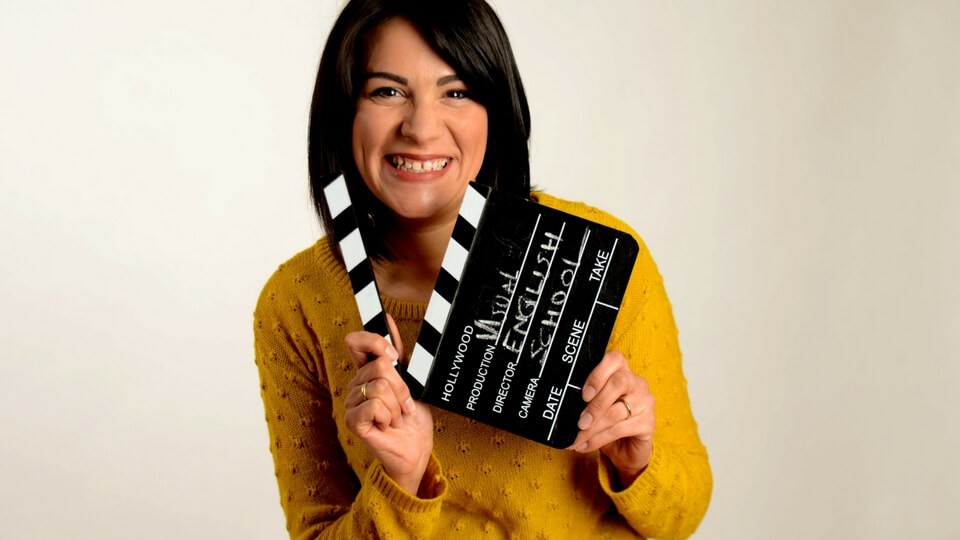 My name is Alexandra Kapinya. I've been teaching English with short films for more than a decade now. I got my university degree in modern languages and did some film studies related to the classics of the Hollywood studio era with a focus on Billy Wilder.
I also run an educational movie club for English learners both online and offline.
You must know that I'm also a jazz aficionado and cappuccino addict.
Course Curriculum
START HERE - Short Movie Club Introduction
Available in days
days after you enroll
I. Language Course - 1. Movie Time
Available in days
days after you enroll
2. Learn Words Visually
Available in days
days after you enroll
Immerse yourself in authentic language and learn how to use English in real-life conversations!
At the end of the course you'll:
Be able to understand movies and native speakers better
Have given your conversational English a boost
Have learned how to talk about your favorite films, stories and life issues in general
Frequently Asked Questions
Who is it for?
The course is for intermediate learners who would like to obtain an advanced level and need to improve their language skills for their jobs or studies. It's definitely for you if you're a real film lover, open-minded, curious, and you want to learn English in a creative way.
Who is it NOT for?
You cannot take the course if you're less than 18 years old. Be aware that the films can contain swear words. If you think this might be an issue for you, the course is not a good fit for you. It's not for English teachers. I have specific teacher training courses. It's not for beginners or pre-intermediate learners. It's not for students who don't need to improve their English urgently and just want to pass their time watching films.
Are the movie club films similar to the ones on your blog?
No. I've chosen longer films of around 15 minutes long. Unlike in my blog posts, I don't use silent or animated films in the movie club. Only mini-movies with real actors and dialogue, so we can learn a lot from the language they're using.
What if I'm not happy with the course?
If you are not happy with the course, you can get a refund within 14 days of your purchase.
How long do I have access to the movie club?
After enrolling, you have lifetime access to the course.
How much time should I dedicate to the course?
At least a couple of hours a week.
Will we have conversation lessons as well?
No, one-to-one lessons are not included in the course, but you can purchase them separately. You can also schedule a free trial lesson. https://visualenglishschool.com/one-to-one-lessons/
JOIN THE COURSE NOW!
Prices are in euros and include EU VAT charges (if applicable).
This course is closed for enrollment.